Unleash the power of gamification for your business 🎮
Say hello to
Gamify Route
.
TL;DR​
Incorporate fun, competitive, and reward elements into your marketing campaigns so you can generate more leads, sales, and engagement
Increase customer loyalty and lifetime value with digital loyalty programs
Encourage your customers to interact with your brand on a deeper level
Highlights
Overview
Gamify Route is a customer loyalty and gamification platform that allows you to reward users and promote your products at the same time
With Gamify Route, you can maximize engagement with your employees, customers, and leads, while also promoting your products and rewarding customers for their loyalty.
Incorporate fun, competitive, and reward elements into your marketing campaigns so you can generate more leads, sales, and engagement.
Create customized campaigns for your needs
Gamify Route allows you to create interactive games that help you achieve your business goals.
The tool is easy to use and highly customizable. Besides, it includes a library of ready-made templates, so you can get started quickly and easily.
Create landing pages, opt-in pages, validation pages, results pages, claim pages, and thank you pages for your game-based campaign.
With the intuitive drag-and-drop editor you'll be able to easily customize your page's design and create a unique look for your brand.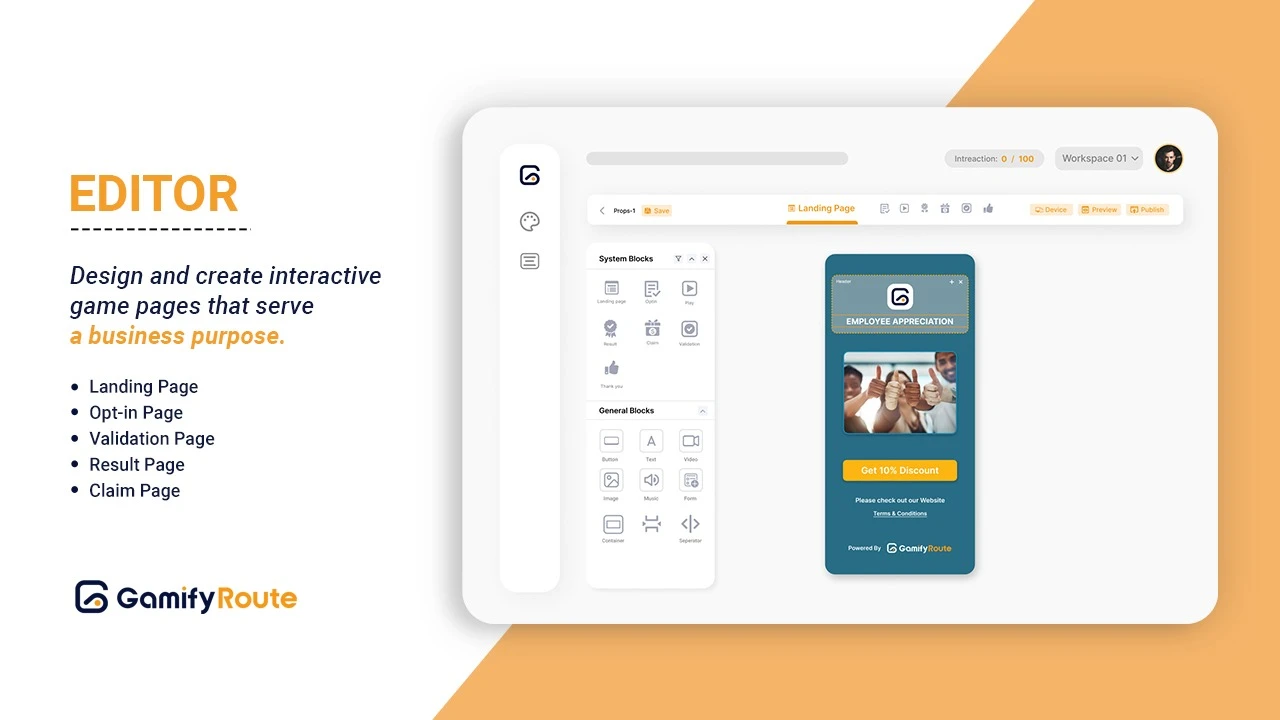 Create and edit your game pages thanks to the intuitive drag and drop editor
Gamify Route's analytics gives you real-time insights from your campaigns directly into your dashboard.
You can also export the data in Excel, CSV and PDF formats whenever you need it.
Use it to optimize your games and make sure you're getting the most out of your efforts.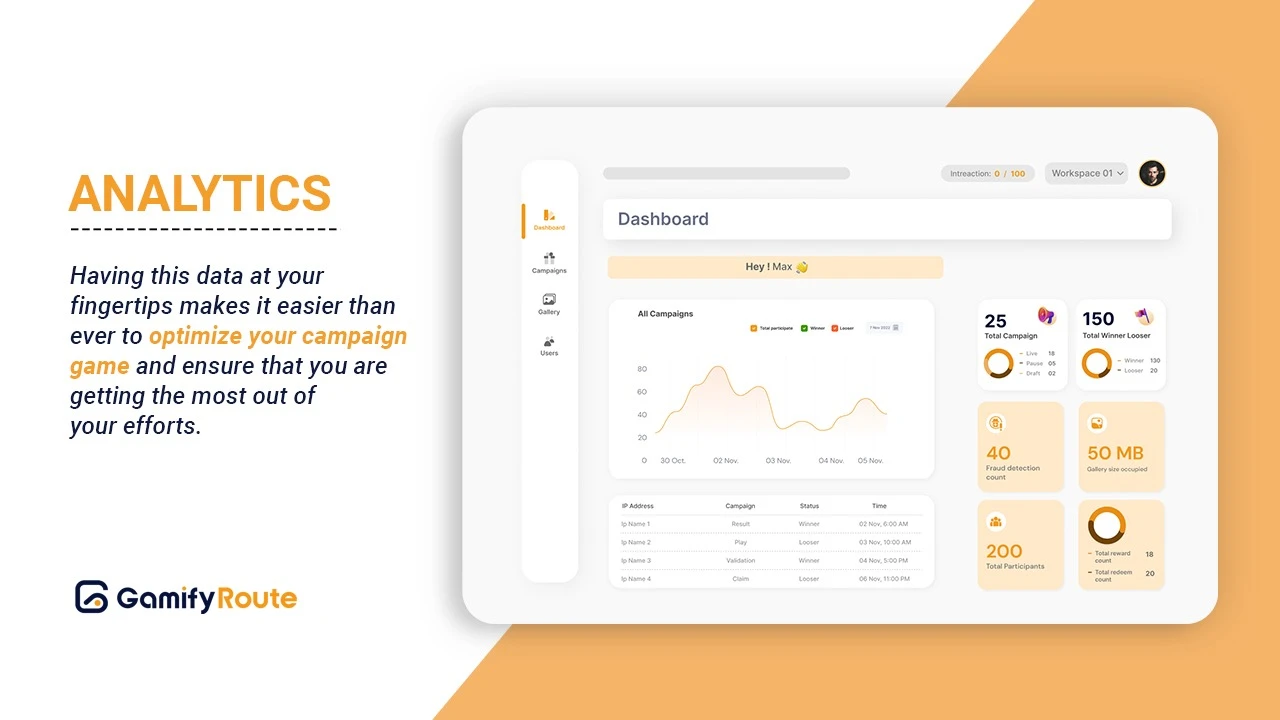 Analytics dashboard for optimizing your campaigns and games
Gamify Route can help you grow your customer base and increase engagement.
Experience the power of gamification for your business.
Get Free access to Gamify Route today!
Plans and Features​
Deal Terms & Conditions
Free access to Gamify Route
All future Starter Plan Plan updates
If Plan names change, deal will be mapped to the new Plan with all accompanying updates
Please note: This deal is not stackable
You must redeem your deal within 60 days of purchase
Obviously, freebies require no payment or refund, just grab it now before it's gone!
Features Included in All Plans
Sharing and validation options
Gamify Route
Freebie
All features above included
100 successful* interactions (monthly)
1 business / campaign / workspace
100 MB gallery Size
1 user
FAQs
How do you count a succesful interaction? Is that the same as a view?

Unlike views, a successful interaction is recorded only when someone has completed the necessary steps to participate in the game (such as submitting a form and scratching a game to win).
Questions & Reviews​
Please
log in
to ask a question.
Only logged in customers who have purchased this product may leave a review.