You have data and insights to share. But it's difficult to do so in a way that tells the whole story accurately and convincingly. Visual representation is usually the best option, but it is highly time-consuming, and often requires design expertise. ("This is taking forever. I bet that by the time I can share this data, it will be completely out of date.)
Finding a way to captivate your audience by turning boring data into stunning visuals can be a challenging process, but all that effort could go towards other aspects of your business.
You need a way to easily create and share insightful data visualizations with just a few clicks.
Say hello to
Columns
.
TL;DR​
Turn boring data into stunning visuals with one click using AI and edit it to perfection using various built-in design tools.
Share your beautiful story with teammates or guests with no sign-up needed. Change view and comment permissions with granular controls available.
Highlights
Overview
Columns is an AI-powered tool that makes it easy to turn your data into beautiful visual stories and generate insights that are easy to share with your readers, customers, and other stakeholders.
​Columns makes it a breeze to turn your data into beautiful interactive storytelling graphics that are easy to analyze and understand.
Connect any of the available integrations (Notion databases, Google Sheets, Snowflake, Databricks, a REST API…) or upload your data directly via CSV file with all the important data for you and your business that you want to analyze and present in comprehensive charts.
Thanks to the numerous templates and the automatic initial insights and visualizations that Columns proposes right after scanning your data, creating and switching between data visualizations is just a few clicks away.
But that's not all, because with the AI query assistant's natural language processing included in Columns, you can request specific visualizations as if they were coming from your personal data analyst. Quite simply, you don't need any additional skills.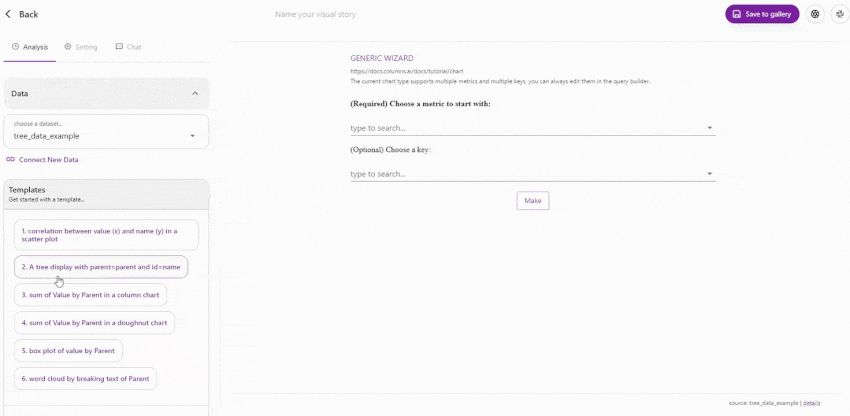 Build automatic visual stories for your data thanks to multiple templates and AI assistance
Columns also includes a graphics editor that lets you spice up and customize your visual stories. Add annotations, smart widgets, images and other built-in tools to make each of your creations unique.
As simple as dragging and dropping one of the elements onto the canvas. Edit titles, subtitles, and captions to make sure your story is told clearly. You can even create highlighted sections of data to make them stand out and clarify their presentation.
Add your brand logo and change the color scheme to match your branding, and you're ready to share with your audience.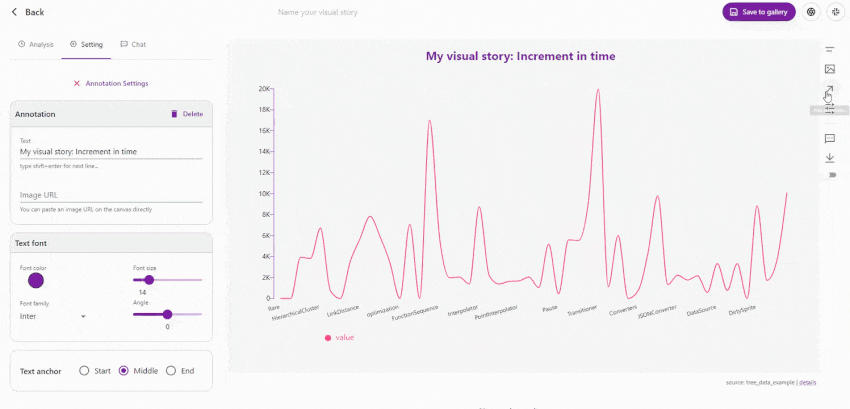 Use the editor to make your interactive visual story unforgettable
Columns AI is a powerful tool for real-time data analysis. With features like data forecasting, it helps you see the future using predictions based on the data you've already provided.
This is useful for financial models, for example, to predict revenue trends for the next few months based on past periods, or to understand how churn and new signups will affect your future membership/subscription revenue.
Only if you're able to understand the data of your business, you can make the best possible decisions.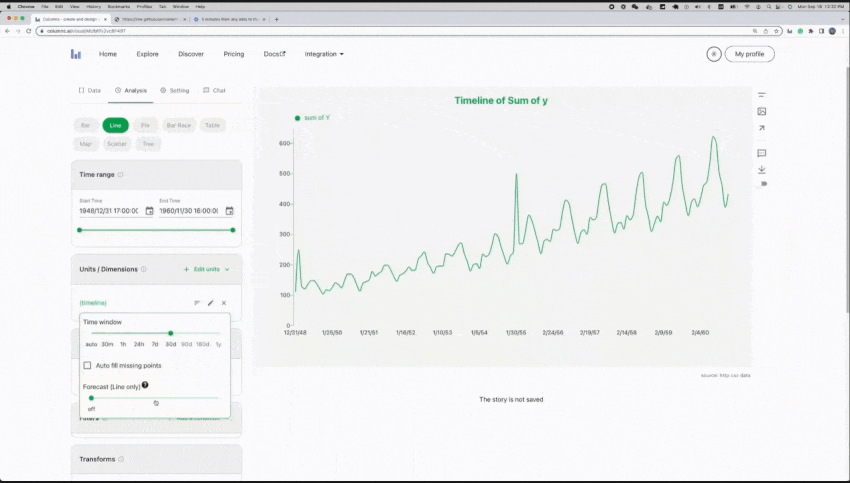 Columns AI's data forecasting helps you predict the future so you can make better decisions.
This all sounds great, but it wouldn't be so funny if you kept it to yourself.
Luckily, you can invite anyone via email and set different permissions for each person. It can be a colleague, a data analyst, a designer, etc.
Just like Google Docs, you can give them view-only or comment-only permissions. Or you can give them full editing rights.
But what if you want others to be able to see your charts without having to log in?
Because Columns supports public sharing and embedding of visual stories. The Headless version is perfect for creating dashboards that automatically sync data on a schedule. Share a direct link with your audience on social media or even embed it in your blog posts or presentations.
The flexible collaboration and sharing features make Columns the perfect partner for any agency or content creation team.
Collaboration and sharing options to enhance your interactive visual storytelling apps.
Since data is everywhere, you can't ignore it just because it looks complicated. You need a way to master it and use it in your favor. ("I'm angry and will hold my breath [until data becomes user-friendly].")
With Columns AI, you can create stunning visual representations of your data and share it easier than ever to engage your audience.
Spice up your content and share interactive visual insights that people will enjoy.
Get Lifetime access to Columns AI today!
Plans and Features​
Deal Terms & Conditions
Lifetime access to Columns AI
All future Premium Plan updates
If Plan names change, deal will be mapped to the new Plan with all accompanying updates
Previous SaasZilla customers who purchased Columns AI in the past, can upgrade their license to increase their feature limits
Stack up to 6 codes
You must redeem your deal within 60 days of purchase
60-day money-back guarantee. Try it out to be sure it's the right fit for you!
Features Included in All Plans
Generate interactive charts with AI
AI Assistant with Natural language processing
Real-time visual data streaming
Time Series Data Forecasting
Automatically synchronized data on schedule
60-day money-back guarantee. Try it out to be sure it's the right fit for you!
Single
One Time Purchase of
All features above included
Unlimited data connections
Unlimited publishing (share & embed)
Unlimited cloud storage
1 team member
API access
Double
One Time Purchase of
All features above included
Unlimited data connections
Unlimited publishing (share & embed)
Unlimited cloud storage
3 team member
API access
Multiple
One Time Purchase of
All features above included
Pinned
Relevant links
First post from founder
Hey, awesome community!
This is Shawn with Columns!
Glad to see you here, after 16+ years of building various data products in multiple companies (mainly Microsoft, Facebook, and Pinterest), I started off building Columns in September 2021, a web-based data storytelling platform powered by cloud computing. Because of the tech foundation, Columns easily supports various data sources including but not limited to
Spreadsheets
Uploads
Database, Data warehouses
HTTP service
Saas tools, like Shopify, square, salesforce, etc.
From these data sources, you and your team could collaboratively work on storytelling, design, and communication with ease, and hopefully joy as well.
At the current stage, I would like to highlight a few features that we focus on, to deliver a smooth data storytelling experience:
🔥 fine & beautiful charts: every chart is highly customizable, you just click any visual element to bring the settings to craft it.
🔥 AI-generated templates: Columns generate templates based on data, with one click, you may discover and unveil the most important insights.
🔥 voice & natural language: it's a joyful experience when you are new to data analysis.
🔥 time series & forecast: it's so convenient to work with time series data, and easily get future forecasts as well.
🔥 design & communication: Columns offer design tools to enrich your data story, such as narratives, shapes, arrows, shading, etc. You can also engage people with in-place chatting to discuss every bit in detail.
🔥 embeddable: every shared data story can be embedded into your website or app with flexible size settings.
We are just at the beginning of our journey to build the best data visualization platform for collaboration, and sharing meaningful insights, you're the early adopters, and I really appreciate your support, and wish we could be helpful in any way. This deal is a lifetime premium membership.
You can reach me at [email protected], or follow us using any of the channels listed at https://columns.ai/contact
Cheers! Shawn Cao
Questions & Reviews​
Please
log in
to ask a question.
Only logged in customers who have purchased this product may leave a review.