"CYBER-ZILLA" 20% off ending in…
Strell
Lifetime Deal
Reach the top of Google with SEO content research and optimization strategies for organic growth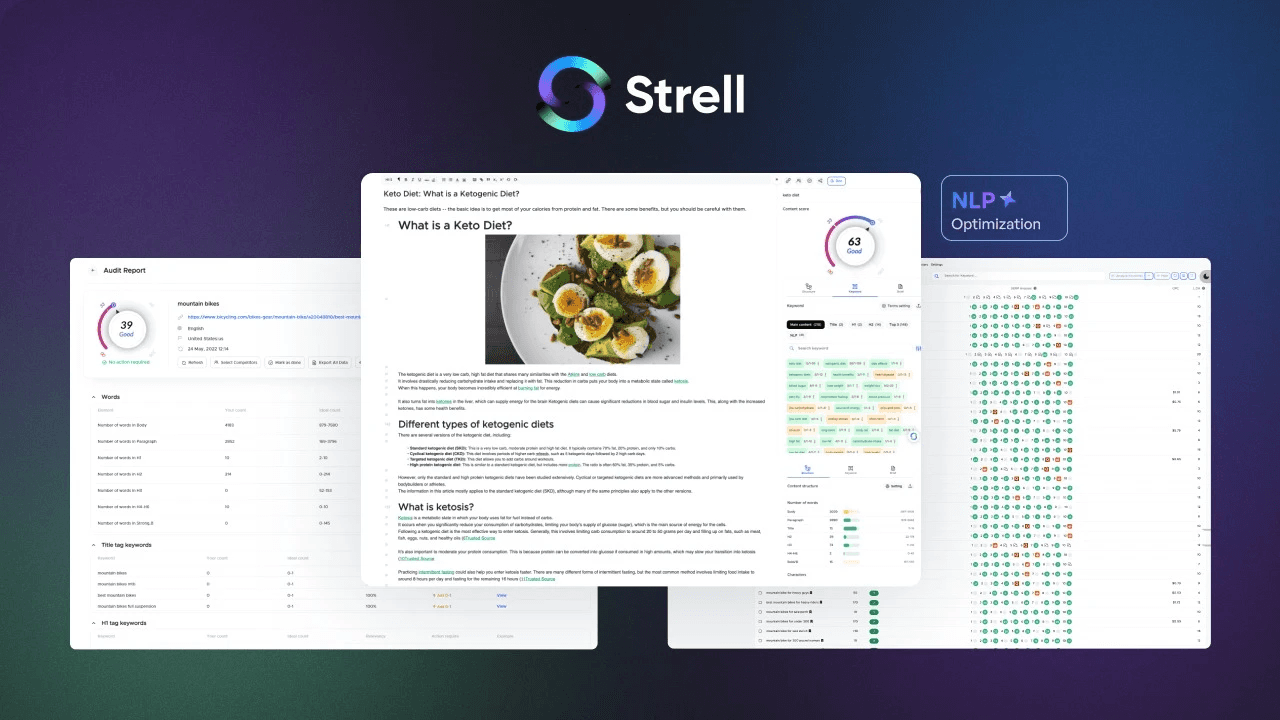 View plan details
60-day money-back guarantee. Try it out to be sure it's the right fit for you!
You put your whole heart and soul into a piece of content, spending hours writing and crafting it. Only to find that it ranks on the 10th page of Google, where no one can find it. ("Plays Don't Cry by Guns N' Roses").
You also want to benefit from all the free organic traffic that comes from ranking high in the search engines, but learning and applying all those dynamic SEO rules and concepts that change with every Google algorithm update feels like a full-time job.
Wouldn't it be great if there was an easy way to know exactly what Google wants to see in your content in order to rank it?
Say hello to
Strell
.
TL;DR​
Automatically analyzes and transforms hundreds of data points from top search results into ready-to-use personalized ranking recommendations
Optimize your existing content with NLP insights that instantly improve your terms and content structure
Avoid endless research and guesswork: Save on research time with the AI content brief and find all the relevant data in one place. Easily understand what works for your competitors and utilize specific recommendations to enhance your performance in record time
The LCKR automatically identifies the easiest keywords to rank on Google, allowing you to take immediate action without needing any special SEO technical knowledge
Highlights
Overview
Strell is a keyword research and content optimization platform that helps SEOs and content marketers to research, write and optimize content to grow their organic search traffic.
All Strell needs to get started with your content audit is the keyword you're targeting and the URL of your published content. Strell will use its algorithm to scan and process the top 20 articles in search engine results and provide you with the key factors that helped them to get to the top.
Then it compares the results to your published article to find out where your content is lacking and how it should be improved. After that, you'll get a detailed and easily digestible report that includes all the analysis and recommendations so you can make the necessary improvements.
Understand where your content stands or impress your customers with actionable insights. What sounds like hours of work is done in one click with Strell.
And that's not all! Each keyword is also given a relevance score so you can decide which keywords to include or remove from your article.
Strell offers advanced functionality for managing your SEO data. You can easily filter the results to narrow down the analysis and recommendations that are most relevant to for your specific niche or target audience.
Audit any content on the web and get an actionable report with just one click
Strell's Content Editor provides an extensive array of features, including
support for 40+ languages
and
over 1000 cities and countries
.
Thanks to Strell's
clean and minimalistic AI-driven content editor
, you can write perfectly optimized content every time, even if you're starting from scratch.
Let the AI do all the hard work and present you with all the research information you need. From the structure of your content to the number of words in each section, Strell has it all for you.
Create a complete outline by including the headings and sub-headings of your competitors and never run out of topics.
The keywords section recommends keywords and topics you can cover. Strell's unique algorithm is able to find more relevant keywords than most competitors on the market. It also integrates Natural Language Processing (NLP) content optimization so you can include to make your content more comprehensive for Google and your readers. Sending the right signals to Google has never been easier.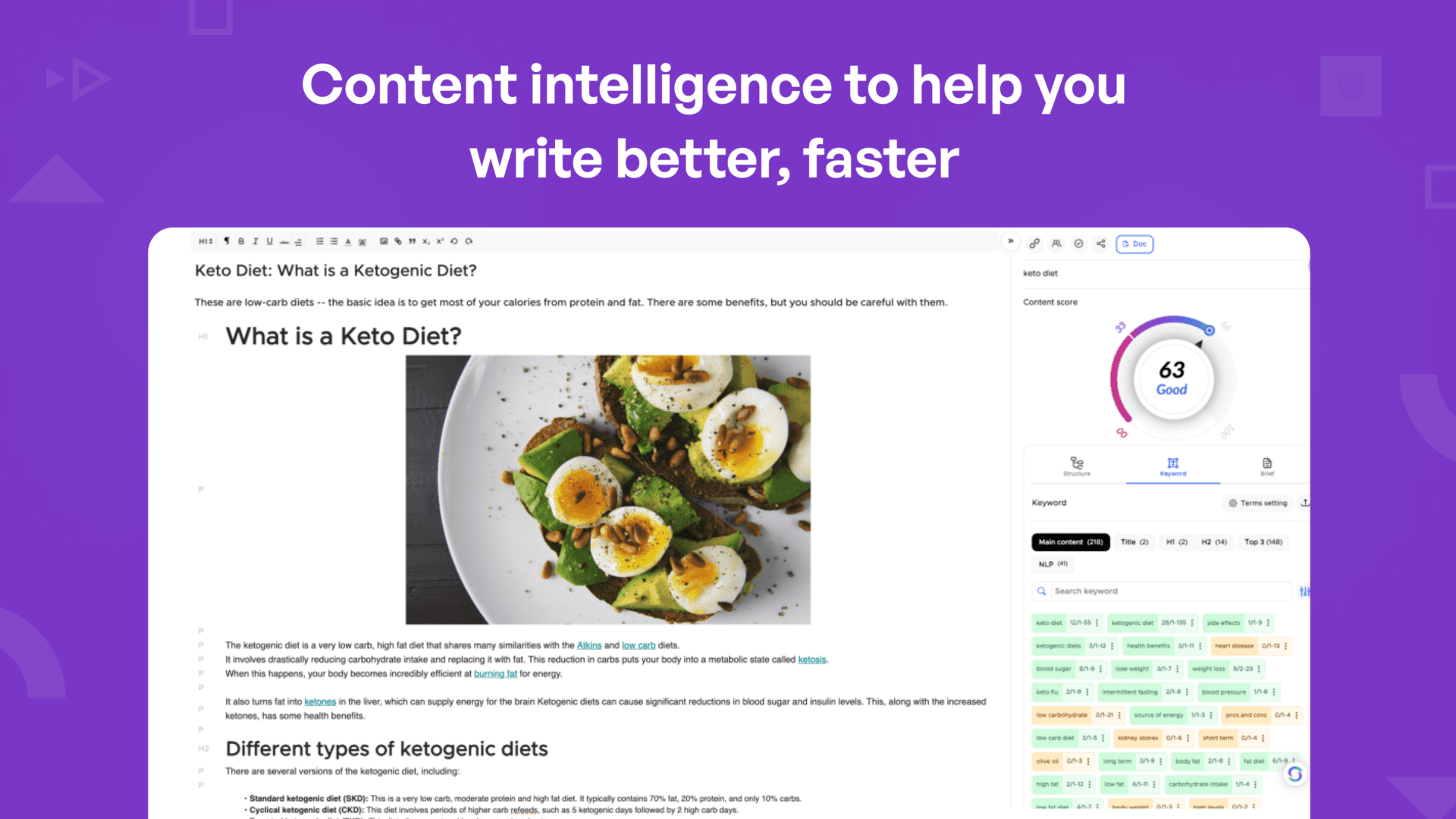 Write perfectly optimized content every time thanks to Strell's unique algorithm
And if that's not enough to get you to the top of Google rankings, how about finding the easiest keywords to rank for, too?
With Strell's new Low Competition Keyword Research (LCKR), you can quickly find the top 10 spots on low authority websites, Quora, Reddit, and forums.
You can import your own keyword reports for SERP analysis.
Keyword Report comes with an inbuilt Search Volume and Supports 60+ languages and 190+ locations!
Real-time SERP Analysis fetches PAA questions and related searches for each keyword you analyze.
The clustering feature helps you to group similar intent keywords based on SERP Similarity.
Be ready to dominate and rank on those terms in no time (1-2 weeks).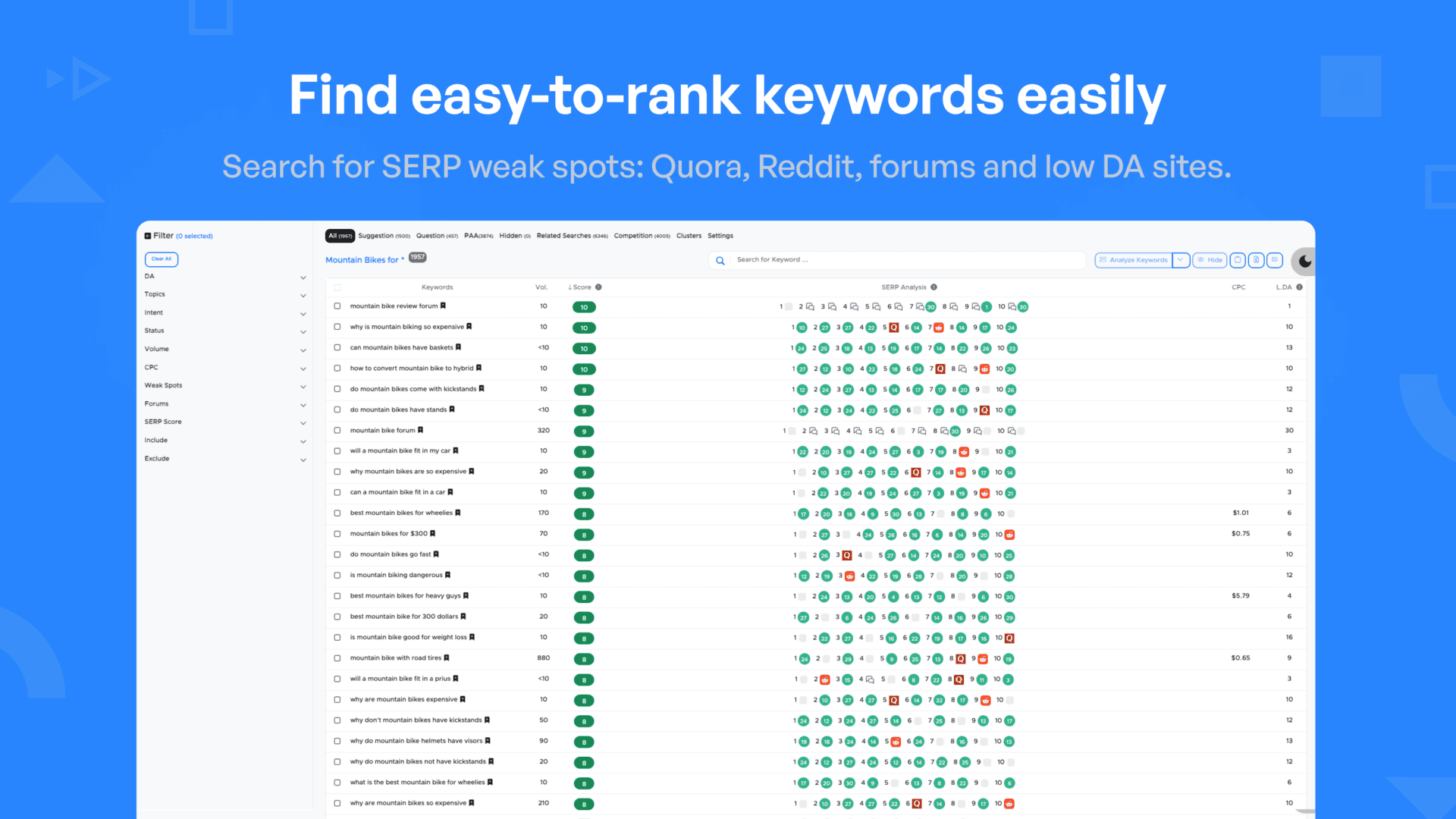 Ranking on Google is now a game of kids thanks to Strell's Low Competition Keyword Research
No one likes to spend days doing research or trial-and-error, hoping to optimize content as best as possible for search engines, especially when you've no idea what else is missing. (Google, are you listening? I promise you I'll be a better person if these changes help me rank this time, please).
Data and research for search engines has never been easier than with Strell. Strell uncovers your competitors' tactics and offers actionable suggestions to help you create content that resonates with your audience and ranks well.
Start mastering the search results.
Get Lifetime access to Strell today!
Plans and Features​
Deal Terms & Conditions
Lifetime access to Strell
All future Starter (Tier 1), Basic (Tier 2), Pro (Tier 3) or Growth (Tier 4) Plan updates
If Plan names change, deal will be mapped to the new Plan with all accompanying updates
No codes, no stacking—just choose the plan that's right for you
Previous SaasZilla customers who purchased Strell in the past, can upgrade their license to increase their feature limits
Ability to upgrade or downgrade between 4 license tiers
You must redeem your deal within 60 days of purchase
GDPR compliant
60-day money-back guarantee. Try it out to be sure it's the right fit for you!
Features Included in All Plans
Low Competition Keyword Research (LCKR)
Filtering, sorting and lists creation
Import your own list to analyze
Analyze niche SERP competition
Share collaborative access (read/edit) to LCKR, Audits and Editor reports
All on-page factors compared for Audit
60-day money-back guarantee. Try it out to be sure it's the right fit for you!
"CYBER-ZILLA" 20% off ending in…
License Tier 1
One Time Purchase of
All features above included
30 Audit/Content credits (per month)
30 LCKR Reports (per month)
5,000 LCKR SERP Analysis credits (per month)
1 user
License Tier 2
One Time Purchase of
All features above included
80 Audit/Content credits (per month)
60 LCKR Reports (per month)
10,000 LCKR SERP Analysis credits (per month)
3 users
One Time Purchase of
All features above included
FAQs
How the credit system works?

Credits only apply to each time you trigger Strell's "calculations" by requesting it on your dashboard. Once you get the results for your query, you can reuse all the content Strells offers in it as many times as you want (this includes all NLP content, competitive insights, actionable suggestions, unlimited content editor editions, etc.)

There's a "Hard Refresh" option that allows you to pull out all the calculations again if you need/want to (which logically triggers the "calculations" again).

In the different tiers of this deal from Strell you'll receive a different number of monthly credits (renews every month, don't roll-over). We recommend that you choose the amount that best suits your use case.

LCKWR refers to Low Competition Keyword Research, and it is the new feature that Strells has developed. The feature is a Lowfruits app competition and the limits on credits are indicated on each tier.
Pinned Resources

All Posts
Subscribe/Unsuscribe MECHANISM
First post from founder
Hey, awesome SaasZilla community!
This is Abhishek from Strell 👋
Welcome to this comprehensive resource on Strell. With all the crucial details presented here, you will be well-equipped to make an informed decision!
🔍 Who's behind Strell?
We are a team of 7 people who combine Niche SEO expertise and software development. We've been working on Strell for the past 1.5 years, creating 3 products: Audit, Content Editor, and LCKR (Low competition keyword research tool). In the last year, over 1000 users joined us and conducted more than 10,000 Audits/Editors and 5000+ weak keyword reports.
🚀 Why use Strell?
Finding easily rankable keywords is challenging, and manually analyzing them is time-consuming. Decoding this information for your team can also be a headache.
Additionally, ensuring your content is well-optimized for SEO with NLP terms, proper length, and accurate keyword densities adds to the complexity. Strell simplifies and streamlines these tasks, empowering you with superpowers to dominate your niche. LCKR helps you discover weak keywords, Content Editor assists in writing NLP-optimized content at scale, and Audit optimizes your existing content.
💡 How to use Strell's SEO workflow?
To find easy keywords and write SEO content at scale, follow this workflow:
Enter keywords or topics in the LCKR tool to discover a large pool of Google auto-suggested keywords using 200+ modifiers.
Analyze the keywords, identify weak ones compared to MOZ data, and explore low-authority websites, PAA questions, and related queries in your niche.
Use Content Editor to run a query and receive a super accurate guideline for writing optimized content that satisfies users and Google.
Utilize the Audit feature to optimize your existing articles for your main keyword.
🌟 How is Strell different from others?
Strell stands out with its:
Unrivaled emphasis on QUALITY, ensuring data accuracy and reliability. More on this here – Notion Doc
Multilingual Proficiency, supporting multiple languages, and constantly improving language support based on user feedback.
Embracing NLP, understanding language nuances and variations for enhanced content creation.
Pinnacle of Draft Mode, offering valuable content optimization recommendations for SEO-friendly and engaging content.
🔒 Can I get unlimited options?
For higher tiers, we offer unlimited Audit/Content editor options. Moreover, you can generate unlimited keyword reports using the LCKR tool.
Questions & Reviews​
Please
log in
to ask a question.
Only logged in customers who have purchased this product may leave a review.
Our newest lifetime deal is about to launch. Make sure you don't miss out!
Stay in the loop with the most insane SaaS deals and save thousands on software subscriptions each year. Subscribe now!