15% off with code "EASYWIN15" expires in…
Get to the top of Google with personalized content and on-page recommendations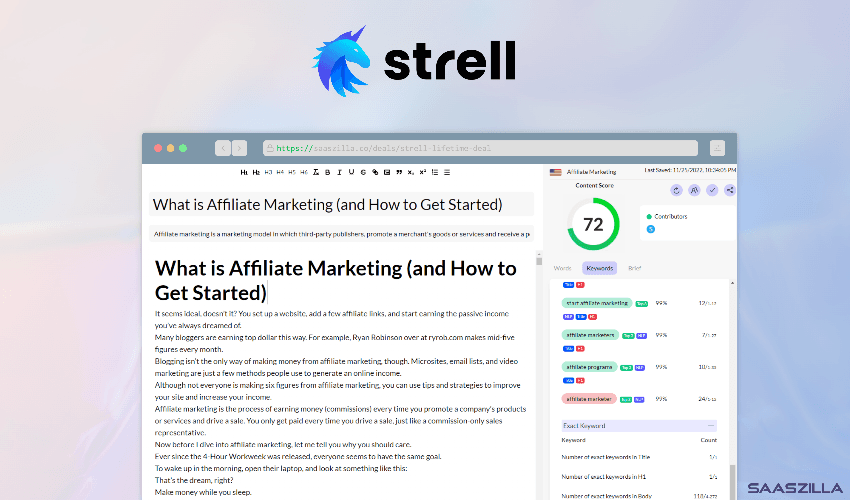 60-day money-back guarantee: Try it out to be sure it's the right fit!
15% off with code "EASYWIN15" expires in…
You put your whole heart and soul into a piece of content, spending hours writing and crafting it. Only to find that it ranks on the 10th page of Google, where no one can find it. ("Plays Don't Cry by Guns N' Roses").
You also want to benefit from all the free organic traffic that comes from ranking high in the search engines, but learning and applying all those dynamic SEO rules and concepts that change with every Google algorithm update feels like a full-time job.
Wouldn't it be great if there was an easy way to know exactly what Google wants to see in your content in order to rank it?
Automatically analyzes and transforms hundreds of data points from top search results into ready-to-use personalized ranking recommendations
Optimize your existing content with NLP insights that instantly improve your terms and content structure
With all the relevant data in one place, you can easily understand what works for your competitors and use specific recommendations to improve your performance
Avoid endless research and guesswork and structure your content in seconds thanks to precise AI-generated content briefs from the top organic competitors
Venture backed with $1.2m
10,000+ active paid users
100,000+ downloads in Google's Play store.
6+ years on the market
SEOs, digital marketers, agencies and business owners who want to write SEO-optimized content to rank better on Google
SurferSEO, MarketMuse, Clearscope, Lowfruits (LCKWR)
GDPR-compliant, AI, Team members, Agency reports
Strell is a content optimization platform that helps SEOs and content marketers write better content and optimize it for higher rankings in organic search.
No one likes to spend days doing research or trial-and-error, hoping to optimize content as best as possible for search engines, especially when you've no idea what else is missing. (Google, are you listening? I promise you I'll be a better person if these changes help me rank this time, please).
Data and research for search engines has never been easier than with Strell. Strell uncovers your competitors' tactics and offers actionable suggestions to help you create content that resonates with your audience and ranks well.
Start mastering the search results.
Get Lifetime access to Strell today!
Lifetime access to Strell
All future Starter (Tier 1), Basic (Tier 2), Pro (Tier 3) or Growth (Tier 4) Plan updates
No codes, no stacking—just choose the plan that's right for you
Ability to upgrade or downgrade between 4 license tiers
You must redeem your deal within 60 days of purchase
60-day money-back guarantee: Try it out to be sure it's the right fit!
Content Audit

Content Editor

Competitor's insight

Content Brief

NLP Support
All features above included
30 Audit/Content credits (per month)

1 user
All features above included
80 Audit/Content credits (per month)

3 users

30 LC Keyword Reports (per month)

7,500 LC Keyword SERP Analysis credits (per month)
All features above included
FAQs
How the credit system works?
Credits only apply to each time you trigger Strell's "calculations" by requesting it on your dashboard. Once you get the results for your query, you can reuse all the content Strells offers in it as many times as you want (this includes all NLP content, competitive insights, actionable suggestions, unlimited content editor editions, etc.) There's a "Hard Refresh" option that allows you to pull out all the calculations again if you need/want to (which logically triggers the "calculations" again). In the different tiers of this deal from Strell you'll receive a different number of monthly credits (renews every month, don't roll-over). We recommend that you choose the amount that best suits your use case.
LCKWR refers to Low Competition Keyword Research, and it is the new feature that Strells has developed. The feature is a Lowfruits app competition and the limits on credits are indicated on each tier.
To all you wonderful people: hello 👋
Where does Strell's intelligence come from?
We're a team of 4 people, working on Strell for the last 7 months. 3 of us have been doing SEO for the last 6 years building niche/programmatic websites and flipping them for profit.
Here's how Strell is Different from competition?
Best in Class NLP terms ( More detailed comparison: https://bit.ly/3EhS6MK)
Know what keywords to use in H1, H2,h3, and Title to rank for many other related queries from one blog article
Exact Keyword Density:Know exactly how many exact keywords to use in Title, H1, H2, H3, Body, Paragraph
Competitors Analysis:Page Score algorithm determines how comprehensive the article is and automatically selects the best competitors accordingly.
Freedom to choose:Freedom to change SEO Strategy according to your competitors. Every keyword is different so there is no one formula to dominate 1st page. If you're an eCommerce player choose eCommerce websites and the whole Audit or Content brief guideline will change accordingly.
Adaptive keyword frequency:Can't change much of the content on the page, we got you! Use suggested count fill the content gaps.
Adaptive Content Structure:Content Structure changes according to competitors you choose
Why Strell? and What significance do Strell's suggestions have?
to comprehend the true user's intent and how to address his issue as quickly as possible
Strell will keep an eye out for the Top 20 SERPs and bring you what you need to rank higher in order to satisfy Google's algorithm. (Compared 192+ On Page Factors) You can simultaneously please the user and Google in this way.
60% of writers' time is spent researching their articles. Strell develops content briefs from the top organic competitors, so you can dramatically shorten the time spent on research.
To evaluate how effectively your content, which was written by your team or writers, is SEO optimized.
With all he needs in one place, you can save your authors' time on SEO content optimization.
Find and improve current content by comparing it to the top 20 search results, so you know where to look when your rankings decline.
Agencies can Lower costs and expand services with the current staff.
Supports 40+ languages
Support for 1000+ Local Locations
Search Reviews & Questions
Reviews (N)
Questions ( [wp_total_comments] )
Reviews (N)
Beautiful Display of the Woocommerce reviews with a shortcode allowinng to "Sort by" Rate (Descending) by default same as AppSumo does. They even put this in a very small sice, so people don't even notice at first, and that forces them to read the best possible reviews first (if they ever come to a bad one in case there are lots of them).
Almost every competitor is adding an anchor to the reviews area. You can see that the sticky lateral section (only Desktop display) is not finished yet because it's needed of a conditional display depending if the deal is sold-out or active (responsive display will come later). That's pretty much fixed stuff that we should add.
PS: Include a counter for the number of reviews without including comments (N)
[product_reviews id="423″]
Questions ( [wp_total_comments] )
Only logged in customers who have purchased this product may leave a review.
60-day money-back guarantee: Try it out to be sure it's the right fit!
15% off with code "EASYWIN15" expires in…